Edit: 12 Sept 2007 – I got featured on the today's front page of Instructables.com! Neat!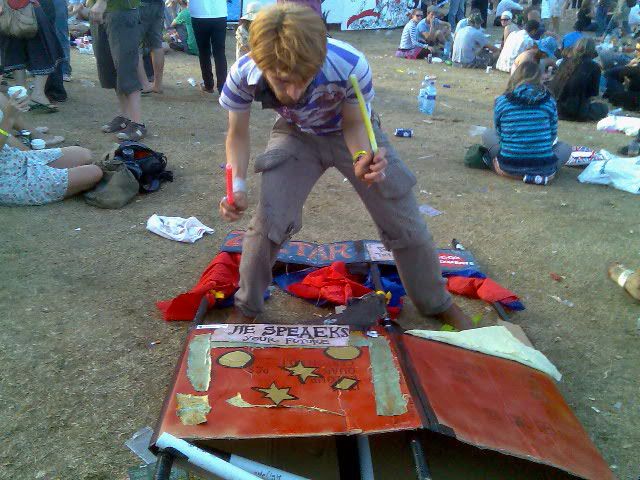 Last year at Bestival, I built a big fortune telling machine costume to wear. I only just found this picture and blog post just now of what ended up happening to it after I left it at Bestival.
This year, I thought I'd get a bit more high-tech and try using some electronics in a costume. So, inspired by this book I bought, The Deep, I tried to replicate a deep sea bioluminscent jellyfish.
It's made from:
1 x washing up tub – £2.99, pound store
22 x kids LED light up necklaces @ £1 each – Internet wholesalers
1 x cheap sports helmet – £9.99, Decathlon
Hot glue gun
cable ties – any hardware store
battery pack, wires, switch and box – Maplin Electronics
Here it is, by day:


view from underneath – your head goes in the helmet bit
and here it is, at night:

and a video:

Direct link to YouTube
It was definitely the most fun I've ever had building anything – the materials were my favourite blend of ordinary objects, technology and loads of glue and cable ties. I spent about 8 hours over 2 days building it, and if I could somehow do this all the time for a living, I would.
The visual impact at night was amazing – from far away it really did look unearthly – but it wasn't as fun to be in as last year's Zoltar outfit. Mainly because it only works at night, by which time everyone is too far gone to really make the most of it. People's reactions are limited to staring, getting all their mates and dancing around you, having a fit, or asking very slow unintelligent questions about it. Best quote of the night:
"Jelly head man, in the rave tent you were freaking me out big time."
I plan to use it at bonfires and firework shows this winter to entice children towards me, where I will try sell them the leftover LED rope necklaces (I had to buy a wholesale batch of 72, so have 50 left). If you would like to buy or borrow this jellyfish head suit, let me know.
If you are interested in the technical details of how to build it, you can go to Flickr, or there is a full Instructable here.